INDICATIONS AND USAGE BECAUSE OF REPORTS OF INTESTINAL AND GASTRIC ULCERATION AND BLEEDING WITH EXTENDED-RELEASE POTASSIUM CHLORIDE PREPARATIONS, THESE DRUGS SHOULD BE RESERVED FOR THOSE PATIENTS WHO CANNOT TOLERATE OR REFUSE TO TAKE LIQUID OR EFFERVESCENT POTASSIUM PREPARATIONS OR FOR PATIENTS IN WHOM THERE IS A PROBLEM OF COMPLIANCE WITH THESE PREPARATIONS. For the treatment of patients with hypokalemia with or without metabolic alkalosis, in digitalis intoxication and in patients with hypokalemic familial periodic paralysis. If hypokalemia is the result of diuretic therapy, consideration should be given to the use of a lower dose of diuretic, which may be sufficient without leading to hypokalemia. For the prevention of hypokalemia in patients who would be at particular risk if hypokalemia were to develop, e.g., digitalized patients or patients with significant cardiac arrhythmias. The use of potassium salts in patients receiving diuretics for uncomplicated essential hypertension is often unnecessary when such patients have a normal dietary pattern and when low doses of the diuretic are used. Serum potassium should be checked periodically, however, and if hypokalemia occurs, dietary supplementation with potassium-containing foods may be adequate to control milder cases. In more severe cases, and if dose adjustment of the diuretic is ineffective or unwarranted, supplementation with potassium salts may be indicated.
McKesson Contract Packaging
---
HOW SUPPLIED Product: 76237-193 Product: 76237-194
Related Pills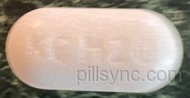 McKesson Contract Packaging
DISCLAIMER:
"This tool does not provide medical advice, and is for informational and educational purposes only, and is not a substitute for professional medical advice, treatment or diagnosis. Call your doctor to receive medical advice. If you think you may have a medical emergency, please dial 911."
"Do not rely on openFDA to make decisions regarding medical care. While we make every effort to ensure that data is accurate, you should assume all results are unvalidated. We may limit or otherwise restrict your access to the API in line with our Terms of Service."
"This product uses publicly available data from the U.S. National Library of Medicine (NLM), National Institutes of Health, Department of Health and Human Services; NLM is not responsible for the product and does not endorse or recommend this or any other product."
PillSync may earn a commission via links on our site